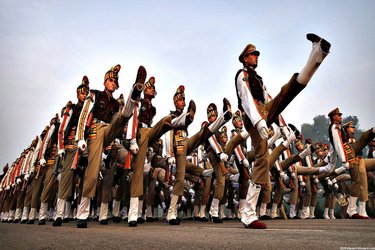 Career in armed forces, India
A career in defence forces entails a huge number of opportunities for those who want to lead adventurous lives. For those who have a strong sense of duty towards the nation, there can be no better option than joining the Indian Army as a career.
In order to pursue a career in defence in India, candidates can enrol in the National Defence Academy located in the scenic outskirts of Pune, Maharashtra. The NDA conducts an entrance test for students of class 12 in May every year. Mathematics and Physics are compulsory subjects if one wants to appear for the test. Every year, 1 lakh students appear for the exam out of which only 350 are selected for training. This speaks of the fact that only the best of the best can find a place at the National Defence Academy.
If a recruit succeeds in passing the gruelling training course and graduates from the National Defence Academy, the soldier is commissioned as an officer in any branch of the Indian armed forces. If it was a technical course which the candidate completed at NDA then they will operate war machinery in aircrafts, ships, tanks or submarines. In case of non-technical courses, the graduate soldiers begin their career as an army officer as they are appointed at the post of first lieutenant in the army or navy and in case of air force, as the flying lieutenant. Depending on their abilities and skills, one can rise in the ranks and become Chief of Staff of Indian armed forces, the highest post for a soldier in the country, seconded only by the President, who is the official commander in chief of all Indian armed forces.
There are a lot of other career opportunities in defence apart from joining the Army, Navy or Air force. For instance, one can become a Para commando or a National Security Guard (NSG) commando. However, recruits for the training of such elite forces are usually picked from regular army units and their training is considered one of the toughest in the world. But that does not mean one cannot aspire for it.
Career in defence, USA
Unlike many other countries, USA allows all of its citizens, including those who are not American by birth but have attained citizenship status, to enlist in its armed forces. Applicants can either join after class 10 as a private (a term used for the most basic and starting rank in the armed forces) or join after college and train as an officer.
The American armed forces are known to be the most technologically advanced force in the entire world.
Career in defence, Singapore
The Singaporean defence forces are one of the best trained forces in the world. They are quite advanced in technology and reputed for their efficiency. The rangers of the Singaporean army are equivalent to commandos and well known for their expertise in urban warfare and anti-terrorism operations.
The bottom line
Whichever defence force you aspire to join, it's very essential to know that courage and obedience are the main building blocks for a career in armed forces. Unlike corporate jobs, there is no option of overstepping the chain of command. The first and foremost trait of a soldier is that they are able to take and follow orders, no matter what they are. Discipline is an everyday element if you choose defence as a career option.